Action Plus and its partners are proud to present our Personal Use Pictures, exceptional photographs from leading photographic sources for you to own and display with pride in your home or office. Here you'll find unique, powerful, and historic sporting event images from award-winning photographers worldwide.

Our sports images cover events from 1975 until today, with some special images back to the early 1900's and were therefore shot on film (until approximately 2002) and then on various professional digital cameras, up to today. This means that the final image varies in sizes, but all can produce as a minimum a full sized 8 inch x 10 inch print and the majority will be available up to A3 size of 16.5 x 12 inches.
Personal Use License: The Personal Use License provides that you can use and display the printed work at home or your office of work. It is a non-transferrable license and you may not copy the print or sell to another person. For the full license, click here.
NOTE: The Football Association restricts the sales of pictures of football players, playing in the FA Leagues after 1993. This restriction does not apply to leagues in other countries, other competitions (La Liga etc). Please email us if you are unsure.
How to find 'that perfect picture': Go to our home page and simply key in a word(s) of what you are looking for. For instance, if you are seeking a picture of Gary Lineker when he played for Spurs, key in 'lineker spurs' and you will find this display: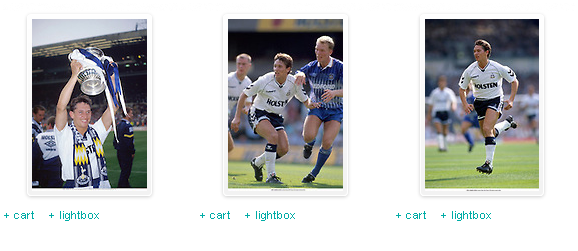 You can then click on any image to see a larger size displayed on the page.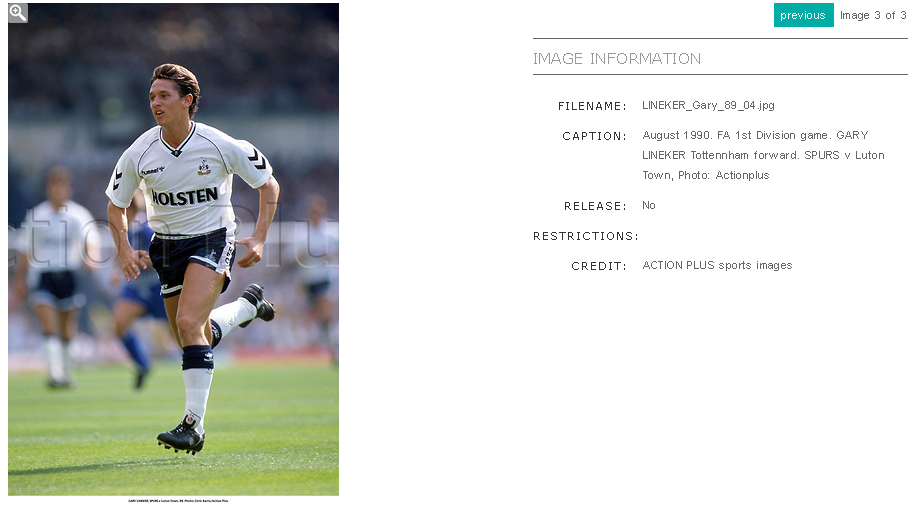 This display will also give you further details of when the image was taken, what the event was etc. For instance, this game was the FA 1st Division Game against Luton Town in August 1990
How Are They Printed?
All prints are produced on high quality HP satin luster photographic paper to ensure the look and feel of professionally produced prints.
How Do I Pay?
This service supports online payment by PayPal. Simply choose the size of the print you require and either:
Make a PayPal payment to 'accounting@actionplus.co.uk' making sure you state the image number and size requested. Make sure to add the £3.25 for UK postage. That order will be confirmed upon receipt and shipment confirmed within 48 hours.
Send us an email to 'info@actionplus.co.uk' to request additional information or shipping outside of the UK region.
If you cannot find the picture/person you want or are unsure about the service, please send us an email to 'info@actionplus.co.uk'and explain your question or let us know what image or person you seek.
We will confirm your order within 48 hours and your print will ship via selected postal method the next day.
Available Print Sizes and Costs (inches with ½ edges)
| | | | |
| --- | --- | --- | --- |
| 8 x 10 print – £10.00 | A4-11.7 x 8.27 print – £15.00 | A3-16.5 x 11.7 print – £25.00 | |
(VAT IS INCLUDED IN ALL PRICES)
Postage: All postage is via the service selected and paid for. Prints will be shipped in either a flat, reinforced print envelope in a poster tube. UK Postage, Shipping and Handling Fees: Royal Mail 1st class £3.25 Other territories upon request.